Nearly five weeks had passed since I finished the Hardrock 100, and it was almost time for the Leadville Trail 100 Run.  I have attempted this race every year since 2006, and this year would be my eighth attempt and hopefully my fifth finish.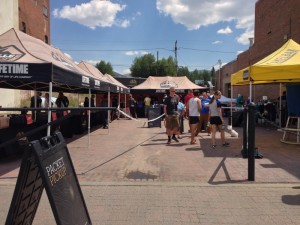 Lori and I packed up our things and made the three hour drive to Leadville on Wednesday evening and got settled into our rental house.  The next morning, we headed downtown to the race HQ so I could check in.  It had been very cool and rainy for most of the last two or three weeks, but was sunny and dry as I stood in line and made my way through and picked up my wrist band and bib.  I was hopeful that it would stay that way through race day.
Lori and I stayed out front for a while handing out VFuel goodie bags and talking with people.  I could sense the 'buzz' in the air and was really enjoying it.  I don't know why but this always seems to be particularly strong in Leadville, maybe due to the sheer number of runners and the large number of first-timers.  Either way it's one of the things I really like about this race.
We met up with our friends (and LeadCouple!) Marc and KT around 4, and then went over to Jessie Wilburn's place for dinner around 5.  Marc and KT were attempting to earn their second Leadman award, and Jessie was making her first attempt at a 100 mile race.  We had a great time eating and visiting, and ended up staying until close to 9.
The next day was pretty uneventful.  I skipped the pre-race meeting for the first time ever, and spent the time getting my drop bags ready instead.  After that, Lori and I had lunch with our friend Kristel and her daughter Janie.  In the late afternoon, Michael and I hiked the race course from MayQueen to Hagerman pass road and back.  My pacers Kristi and Doug and my friend Mark showed up a little after 8, and I went to bed sometime after 9.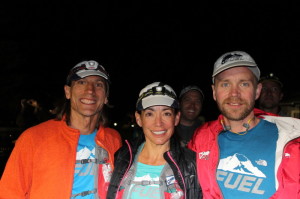 My alarm went off way too early at 2:50am, though it made little difference as I hadn't really slept at all.  After getting ready, I gathered up my stuff and walked to the start/finish line.  After a few pictures, and a good luck kiss from Lori, we were off.
As usual, the crowd was moving really fast down 6th street and onto the Boulevard.  I was not feeling that great, and was careful to keep my pace nice and easy.  I also noticed that I kept catching my toes on roots and rocks around Turquoise Lake.  That's usually not a very good sign.
As we progressed around Turquoise Lake, I noticed that we were beginning to slow down much earlier than normal.  I found out later that there were 944 runners this year!  I think the crowding probably cost me about 5 minutes getting to MayQueen, but in hindsight it was probably a good thing that I was forced to slow down some.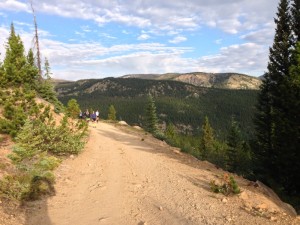 I arrived at MayQueen (mile 13.5) in 2:25, a bit slower than I wanted but still OK.  I walked straight through the aid station and headed back out immediately.  As I got back on the trail and started the climb up to Hagerman Pass Road, I could tell that this was going to be a rough day.  I was already feeling tired and a bit dizzy, and decided I should hike more and run less.  I ran a bit of the road, but resigned myself to hiking the vast majority of the climb up Sugarloaf mountain.
Finally, I reached the downhill portion on the other side and was able to run a bit.  After stopping to tie my shoe, Jessie ran by me, and I quickly took off and caught up to her.  We were able to run together until almost to Outward Bound (23.5 miles), and I arrived there in 4:47.  I only stayed a couple of minutes here and was back on the pavement quickly.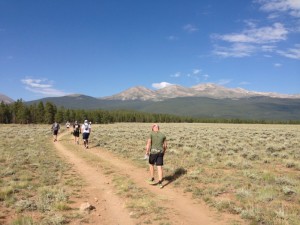 This stretch is my least favorite.  The pavement seems to go on forever, my feet were hurting, and running on the road is just hard on me mentally anyway.  I did a lot of walking, and finally got to the end of the pavement.  I breezed through Pipeline, getting a water refill from Kristi and taking just a couple of minutes to sit on the ground to rest my feet.  I left there and mostly walked to HalfPipe (29 miles) in 6:25.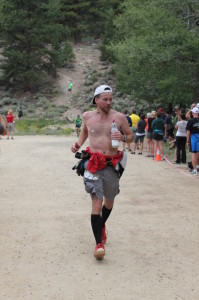 I still was feeling pretty awful, and was just trying my best to run a bit here and there but mostly just walking.  After what seemed like hours, I made it to the top of the descent down into Twin Lakes and my mood improved a bit.  I started running down the steep decline and quickly noticed my knees starting to hurt.  I kept running, but the pain slowly increased as I went along.  By the time I made it to Twin Lakes (39.5 miles) in 8:32, they were hurting quite a bit and I was really concerned about how they would hold up for 60.5 more miles.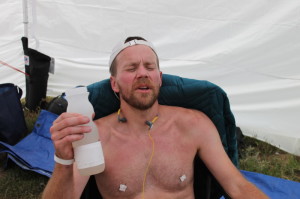 I rehydrated and refueled, and put on some sunscreen, and rested for a bit in the VFuel tent.  Lori walked with me through Twin Lakes until the start of the trail, and, with another kiss, I was back on the trail with my knees still hurting.    I again mostly walked to the river, where I kneeled in the water for a couple of minutes to try and ease the pain in my knees.  I also took an ibuprofen, and soon my knees were feeling much better.  I started feeling a lot better on the climb up to Hope Pass, and started passing people pretty frequently.  I made it to Hopeless aid (~44 miles) in 11:09, and crested the pass about 20 minutes later.
I was making fairly good time running down the south side of Hope Pass when I ran into Michael, who was headed down after spending the day in the pass taking pictures.  We ran together until the trail split, and I made it to Winfield in 12:06.
After a short break, Kristi and I headed back towards Leadville.  Reaching the halfway point, as well as having some great company was improving my spirits quite a bit.  I wasn't feeling great, but still made pretty good progress up the steep south side of Hope Pass.  We arrived at Hopeless Aid (mile (~56 miles) in 15:10, and I ran straight through while Kristi stopped to fill my water bottle.
This stretch is one of my favorite parts of the course.  I ran at a pretty good clip, feeling good for nearly all of the 3 miles or so descent.  My energy died (like usual) when I reached the bottom of the mountain, and we trudged along the rest of the way into Twin Lakes.  We arrived at the aid station (mile 60.5) in 16:50.  I spent a fair bit of time taping my toes, gearing up for the night, and also cutting the elastic band off of my underwear where it was acting like a saw blade on my private parts.  Reluctantly, I stood up and headed back out on the trail to make the climb up out of Twin Lakes, feeling tired, dizzy,  and having periodic coughing fits
I was able to climb reasonably well at that point, but was unable to run once the trail leveled off.  We settled into a brisk walking pace, arriving at Half Pipe (mile 71) in 20:13.  I was starting to get worried about my time now, but there was no way I could go any faster so I just tried not to think about it.  I tried several times to run on the pavement leading to Outward Bound with no success.  I finally arrived at the aid station (mile 76.5) in 22:15, an average pace of only 2.75 miles per hour over the last stretch.  I sat down for a couple of minutes in the aid then made my way back out to the road heading towards Powerline.
Things really went from bad to worse once we started up the steep climb.  Before long, I was very dizzy and staggering around, unable to walk in a straight line up the mountain.  I was probably only averaging one mph or so, and was stopping frequently to rest.  I just felt worse and worse as I climbed, and I was seriously doubting that I would be able to make the cutoff at MayQueen.  Finally, the climb was over and I focused all my will power into making myself run the downhill without any success, and I knew that I had no chance of making it in time unless something changed soon.  I finally realized I had tried everything I knew of with one exception – I hadn't thrown up yet.  I quickly stopped and stuck my finger down my throat, forcing my body to purge what little was in my stomach.  After a couple of minutes things were better, and before long I was actually running down the trail!  I could tell when I drank water that my stomach was still very touchy, and I only took small sips of water the rest of the way to MayQueen.  I was able to run much of Hagerman pass road as well as the trail, and I arrived at MayQueen in 26:23, only 7 minutes before the cutoff!
I only spent 30 seconds or so in the aid station and took off as quickly as I could go.  A few minutes later, Doug caught up to me.  I tried taking a packet of VFuel, but my stomach still absolutely refused to have anything in it (even VFuel!), and I was forced to throw it back up within 5 minutes.  Fortunately, I could still run pretty well if I kept my stomach empty, which is what I did all the way to the finish.  Doug and I ran every inch of trail that was downhill, along with a great deal that was flat.  We passed a large number of people in this stretch, and kept it up all the way to the end.  Finally, we were at the top of the hill on 6th street, and could see the finish line!  Despite having no food or fuel, and only one water bottle the last five hours of the race, as well as a fairly nasty bit of bronchitis I was going to make it!
When we got closer, I tried to run it in hard like I usually do, but the lack of fuel over the last five hours made that impossible.  I finally settled for sprinting in the last hundred yards or so, crossing the line in 29:43:52 for my 5th Leadville 100 finish!
Huge thanks go to Kristi and Doug for pacing me, and to Lori for crewing me the entire race!  Without all of their efforts, there is no way I would have made it in time.  Next up (in three weeks) – the Wasatch 100!