For the last three years, my family and I have spent spring break in Anthem Arizona, a small community north of Phoenix.  This has provided me with the opportunity to run Rim2Rim2Rim in the Grand Canyon the last three years as well.  This year, I was turning 46 years old on April 7th, so I decided to do the run that day as a present to myself.
I started packing up around 2 o'clock the afternoon before when I realized I had a problem.  I had forgotten to bring my Amphipod flasks that I planned to use to carry my VFuel Endurance Gel on the run.  I did some calling around, and ended up driving 30 minutes south to the closest REI down in Phoenix, where I picked up a couple of new flasks and a new pair of Injinji toe socks.
Once back home, I carefully packed up all my food and gear and left our rental house a little before 5 o'clock, and started the drive to Tusayan.  About an hour into my drive, I realized I had left my water bottle at the house.  No problem – I discovered that there is an REI in Flagstaff.  Then I realized I had left almost all of my food in the refrigerator.  Ugh.  I decided to keep going, and ultimately ended up buying a pack of Oberto Bacon Jerky, along with a shiny new Amphipod water bottle at REI (they don't carry Ultimate Direction bottles).  I then picked up a couple pounds of goat cheese at Whole Foods and decided I was good to go.
I arrived at Tusayan around 8:15, and soon found an unoccupied camping spot in the National Forest, set up my tent, and was asleep by about 9:15.
My alarm went off at 5am, and I quickly decided it was too cold to get up and went back to sleep.  My conscience got the best of me about 5:40 and I got up and packed up camp and drove to the Bright Angel trailhead.  I had a quick breakfast of Bacon Jerky, goat cheese, and dried cherries, and started rounding up my running gear.  I then made a terrible discovery – Amphipod changed how their flasks attach so my new flasks wouldn't fit on my belt!  I thought for a bit, then finally stuffed one full flask in my pocket, took a huge swig out of the other, then left it in the car.  The 1200 calories of Mountain Berry VFuel Endurance Gel and 1200 calories of Black Cherry Cola VFuel Endurance Drink Mix (coming soon!) would just have to be enough.
I hit the trail around 6:45, and was greeted with this view:
It soon warmed up and I was able to take off my jacket.  I reached Indian Garden in a little under an hour and refilled my bottle from the creek.  My training mileage has been extremely low this year, so I was taking it very easy.  A little over an hour later, I reached the Colorado River.
A quick traverse along the river lead me to the bridge, which I quickly crossed.
From there, it was a quick trip up the trail along Bright Angel creek, and I arrived at Phantom Ranch about 2 1/2 hours in.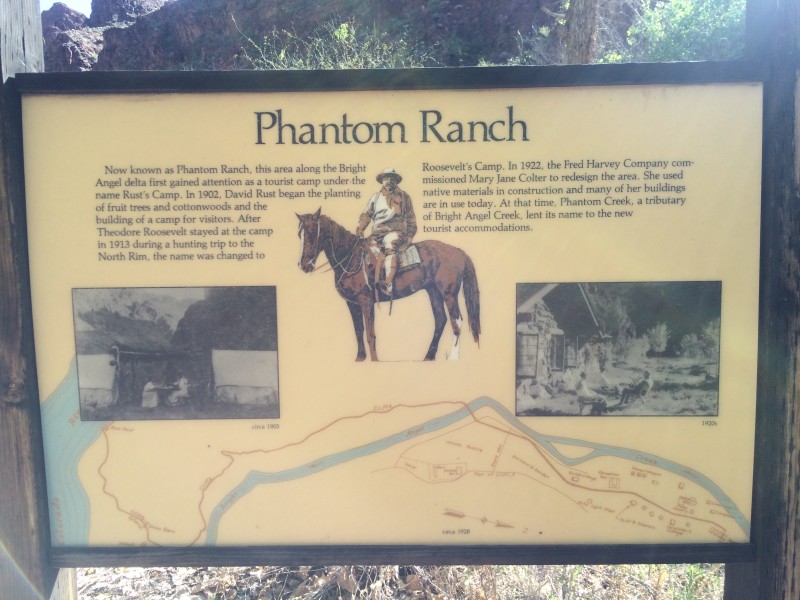 From there, I ran the easy sections but mostly just hiked along the trail toward Cottonwood campground, arriving there in a couple of hours.  Another half an hour and I was at the bridge right before the ranger cabin.  I refilled my bottle from the creek and started making my way up the steep climb to the North Rim.
This climb starts around 4500 ft elevation, and climbs to a little over 8100 ft at the rim.  The trail is simply amazing, with some spots literally blasted out of the side of the cliff.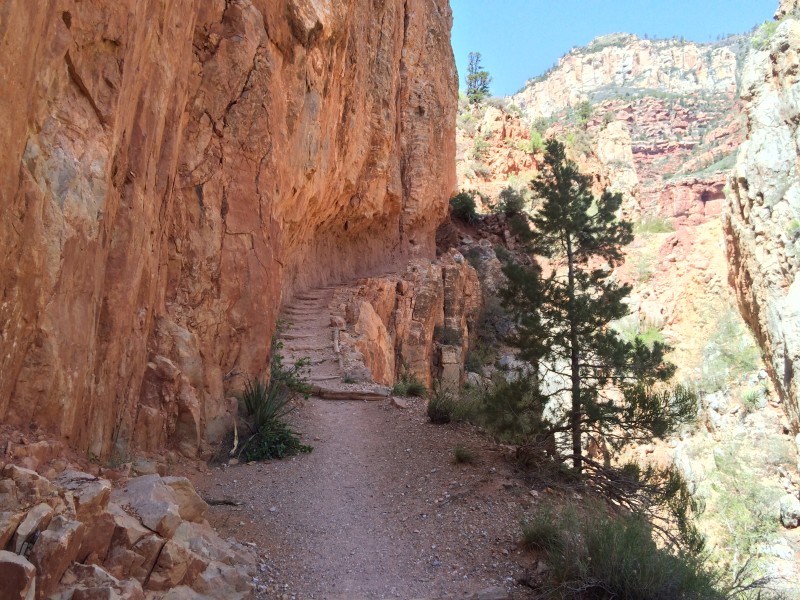 About an hour and a half into the climb, I arrived at the Supai tunnel.
About a half an hour later, I hit the Coconino Overlook and stopped to take a picture of my Altra Samsons.  My Samsons kept my feet happy the entire day.  Too bad they don't make them anymore.
20 minutes later (7:30 total elapsed), I was on top of the North Rim.  My run was halfway over.
Surprisingly, the water was on, so I took advantage and refilled my bottle.  I rested and visited with a group of guys from Ohio, and took off after 5 minutes or so.  I made quick time back to the bottom, and then started the long shuffle back to the Colorado River.
A little ways up the Bright Angel trail, I met a couple from Salt Lake City, Rebecca and Eric, who were doing R2R2R as well.  I found out that Rebecca is training for her first 100 mile race this year (the Wasatch 100).  It was great to make new friends, and having someone to talk to after all those hours alone really helped pass the time.  I pushed much harder than I would have otherwise, and didn't even stop for water at Indian Garden.  Rebecca and Eric were trying to reach the top in time to take the last shuttle bus back to their car (at 9:30), but we didn't quite make it, topping out at 9:45.  It was freezing cold, so they hopped in my car and I gave them a ride back to their car.
This was the best R2R2R by far that I've done, even though it wasn't the fastest.  My energy was consistent, and I felt great all day.  All in all, it was a great start to my running year, and I'm excited to see what else this year holds for me.
All the pics I took: