It was a Monday, with less than three weeks to go before the race, so I was starting to ease up on my training and thinking mostly about acclimatizing. It was also my last chance that week to go hiking with Lori, so we decided to head up to Mills Lake, with me possibly going up Longs via the Trough route. The weather was pretty iffy though, with lots of rain clouds already blowing around at 9:30 when we arrived at the Bear Lake parking lot. After observing the weather, I decided that I would just hike barefoot to Mills and come back with Lori. So then, after removing my shoes and socks and placing only two of the three 4oz flasks of Vi Fuel in my pocket, we headed out. At the appropriate place, we made sure no one was paying attention and then headed up the fire trail.
Along the way, I started feeling pretty good and started wondering if I could safely make it up Longs barefoot. Weighing the pros and cons, and thinking more seriously about it, I started convincing myself that I could do it safely. I would be relatively protected from lightning until I was at the top of the Trough, and could then decide whether it was safe or not to make a quick dash to the summit and back. I was talking a bit out loud, running my thinking past Lori to see if she made any objection, which she did not. Finally I told her I was a bit surprised that she wasn't trying even a little bit to talk me out of such an ill-advised, spur of the moment outing. She just told me that she had decided a long time ago to stop trying to talk me out of any kind of crazy endurance adventure, since I wouldn't listen to her anyway!
After a while, we arrived at Mills Lake and stopped to refill our water bottles from the rapidly moving outlet stream. Lori gave me her socks (just in case), and we enjoyed the view for a few minutes. Here I am, ready to take off.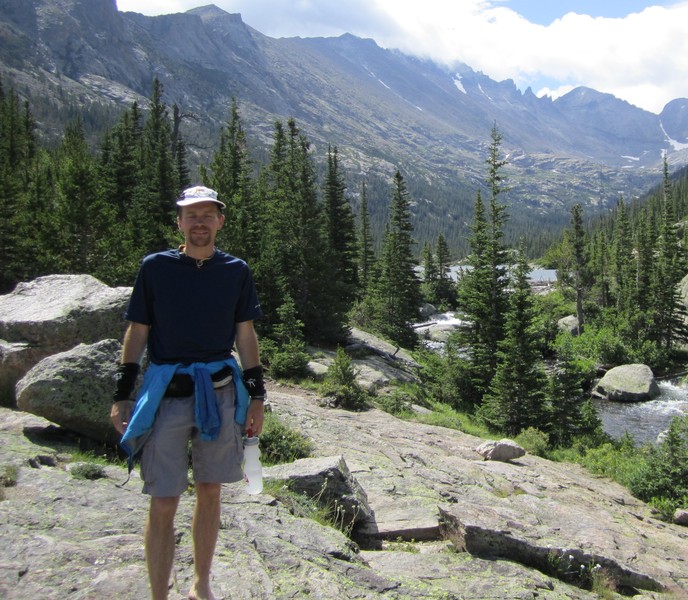 I had two 4oz flasks of Vi Fuel, a sandwich baggie with cubed chicken, a 26oz water bottle, my Steripen Opti, a pair of cotton socks, my Moeben sleeves, a little backup flashlight, my mp3 player (which I didn't use), my iPhone, and my Marmot rain jacket tied around my waist. And the best part – no shoes! Giving Lori a quick kiss and hug, I headed on south down the trail.
The trail was in good shape and relatively free of people, so I made good time up to the Glacier Gorge campsite, where I saw this little cascade created by a log jam.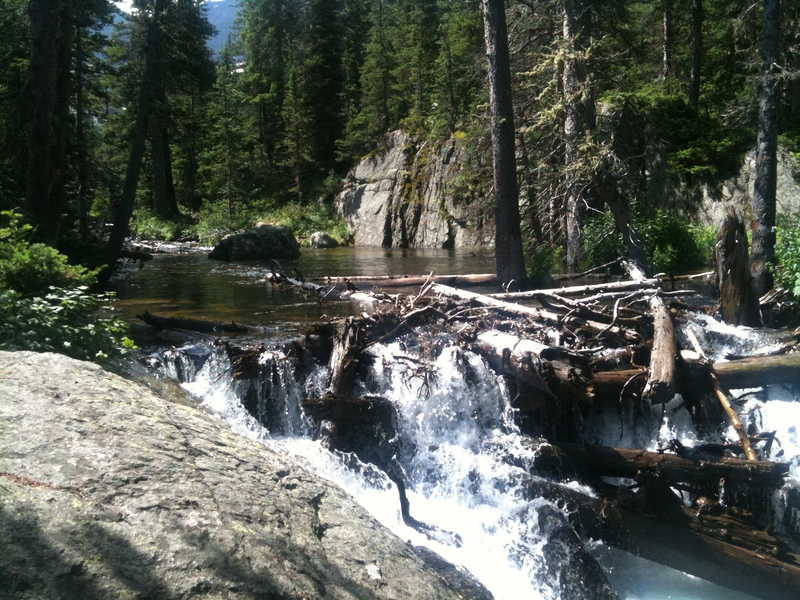 In just a few more minutes, I saw my first patch of snow! It must have been 10 or more feet deep up here in May!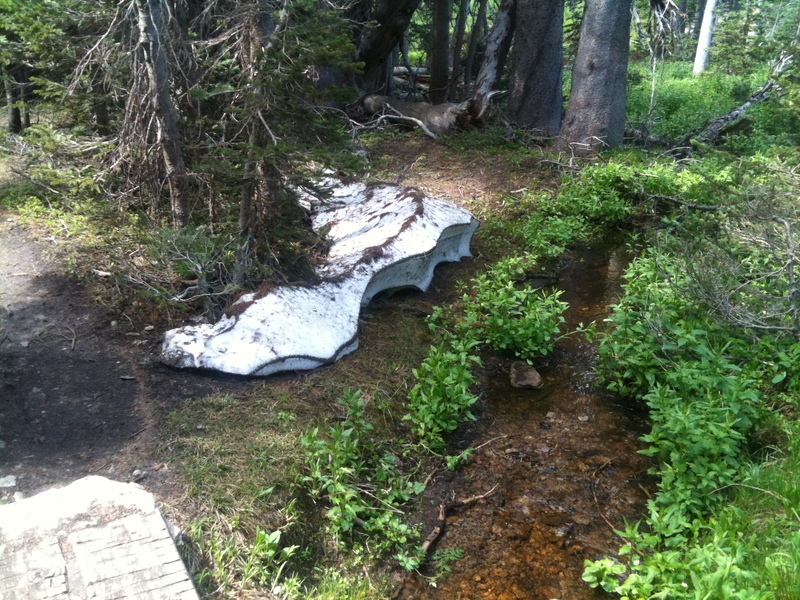 Continuing on, I soon left the trail a little ways before Ribbon Falls to check out one of my favorite water features in the park.
Here is a shot of Ribbon Falls, right before Black Lake.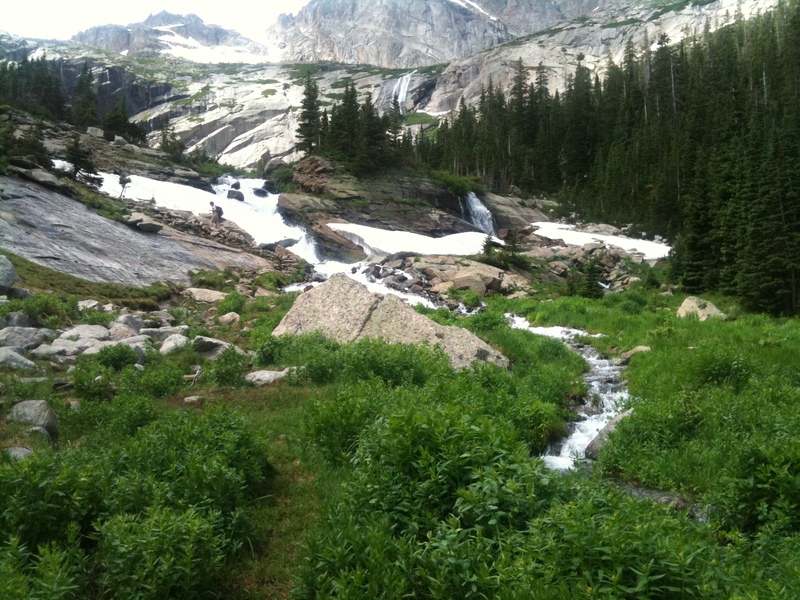 Just a little bit past the top of the falls, this view of Black Lake awaited me. You can see the Spearhead in the upper left corner.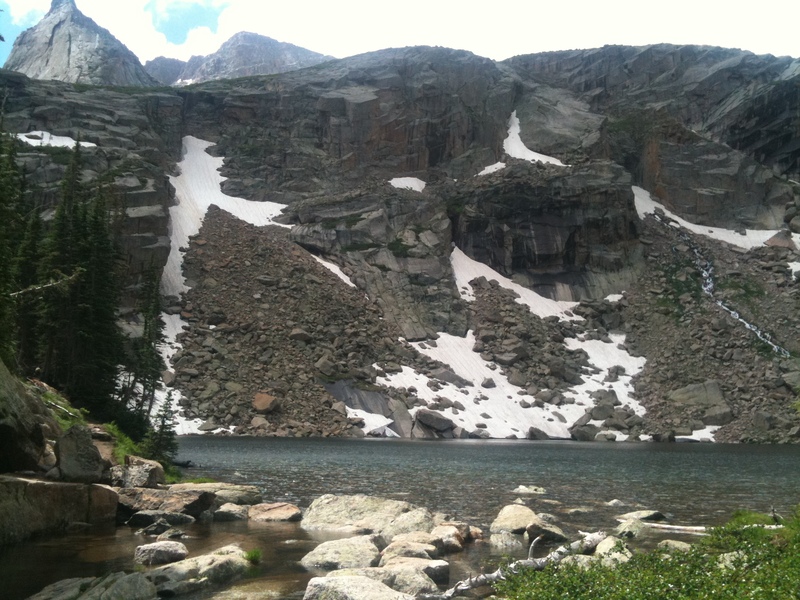 I then skipped around a few people and made short work of the climb up to the plateau above the lake. I spent 10 or 15 minutes picking my way through the scrub willows, trying to find the best route, and filled my water bottle. Soon I was nearing the base of the Trough, ready to start the long climb up.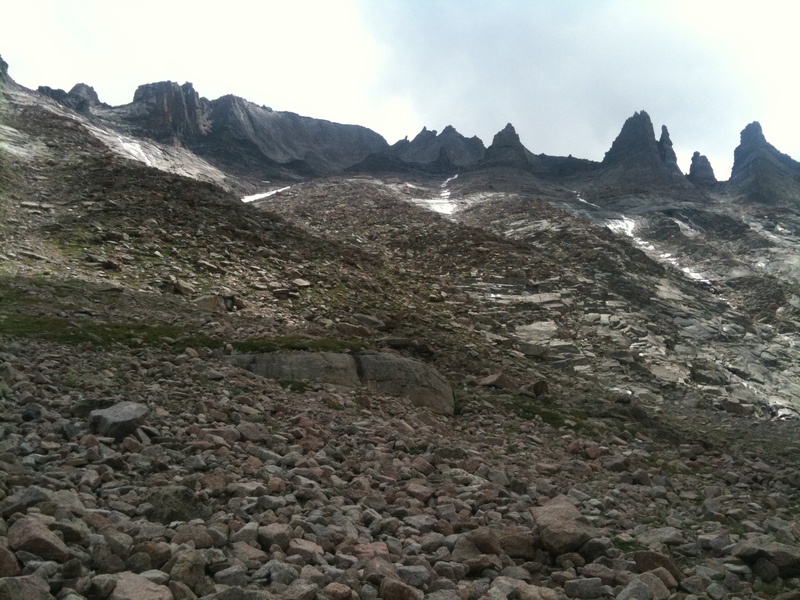 I started climbing and soon ran into patches of snow. It was generally pretty easy to avoid just by staying on the rock to either side of the snow. Here's a nice cascade part of the way up.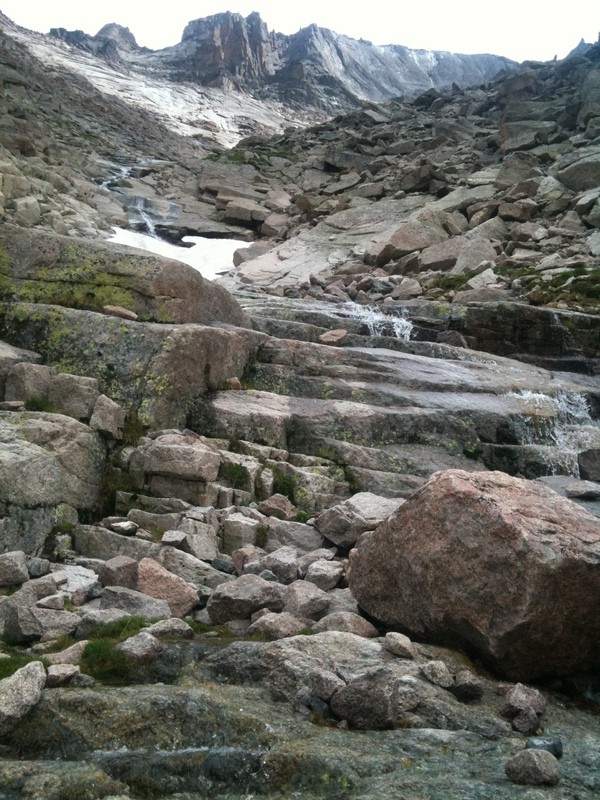 About this time, I could see that I was about to get hit with a rainstorm. It started raining lightly, and then soon I had to put on my rain jacket. Thankfully, it only rained lightly for a few minutes, and then the sun came back out. I took a couple of pictures of the view shortly after the storm moved on. You can see the next wave starting to build up in the west.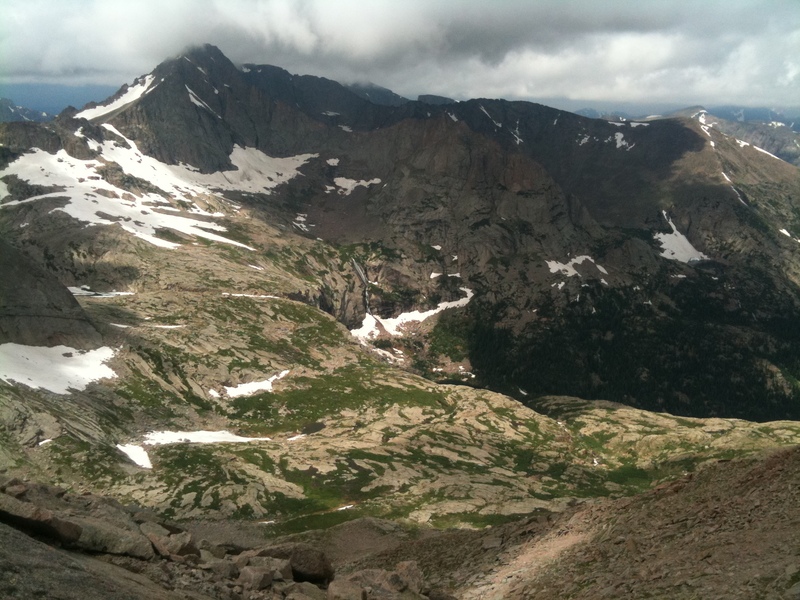 Notice Mills and Jewel lakes off in the distance in this one.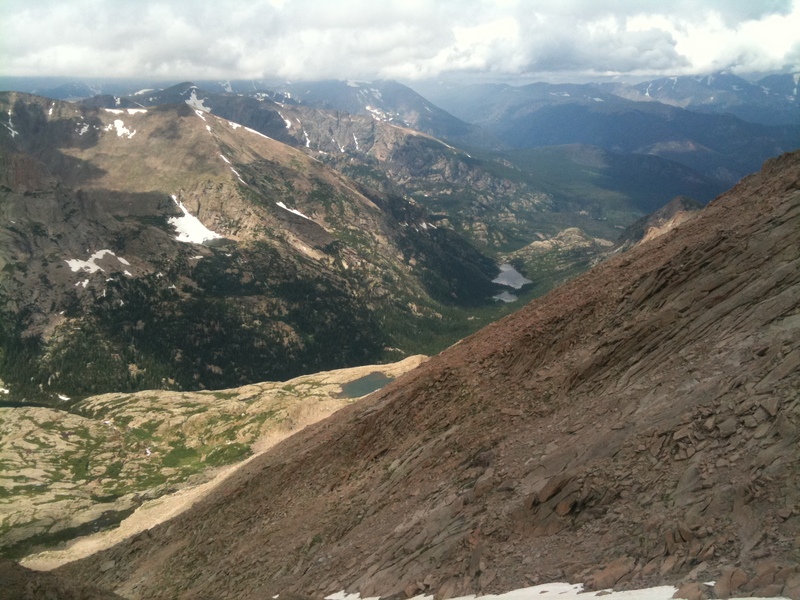 I continued to climb, reaching the level of the Ledges on the Keyhole route in right at an hour from the bottom of the Trough. By this point, I could see that another wave of storms were headed right for me. Straining my ears for the sound of thunder, I continued on up, a little quicker yet since I feared I would miss the summit. Twenty minutes later, I reached the top of the Trough right as the storm clouds hit from the West, bringing lots of wind with it. I quickly climbed up the Chockstone and slipped a little bit onto the Narrows to get out of the wind a bit to take this picture of the Hearse.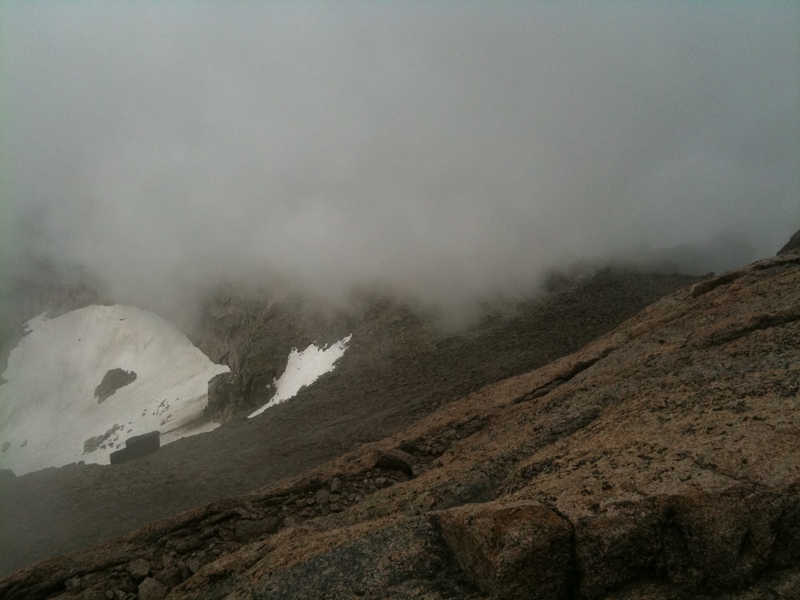 Quickly scooting across the Narrows, almost running at that point, I snapped a pic and soon reached the bottom of the Homestretch.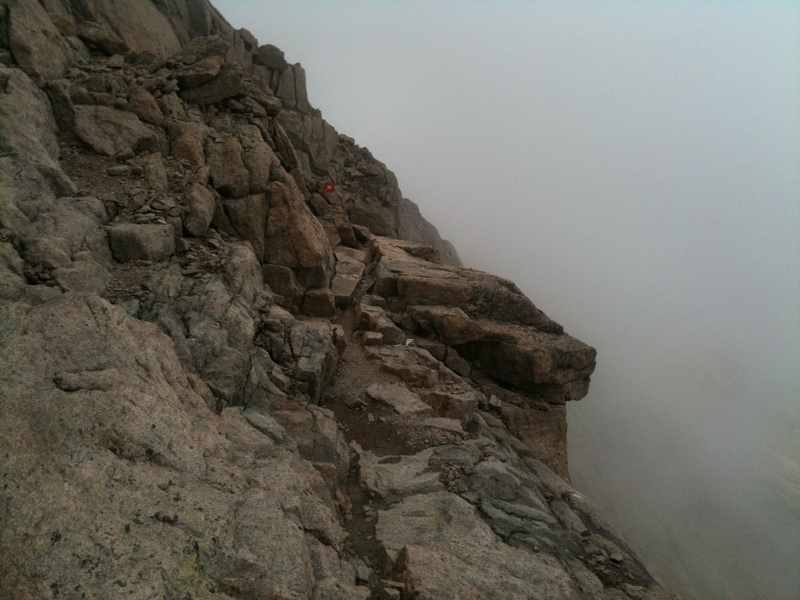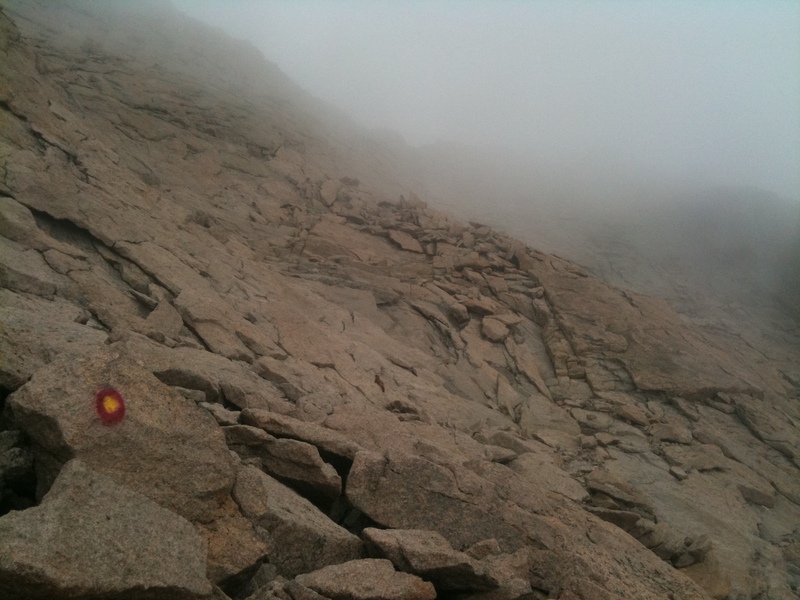 Thankfully, there was no rain coming out of this wave of the storm. Hearing no thunder, but still a bit nervous, I headed up the Homestretch. Halfway up, I realized I was making really good time and pushed it the rest of the way, making it to the summit in 7 minutes flat! I'm pretty sure that this is my PR for this section.
I went over and signed the summit register, elated that I had made it up in 3hrs and 5mins from Mills Lake. And my feet still felt great!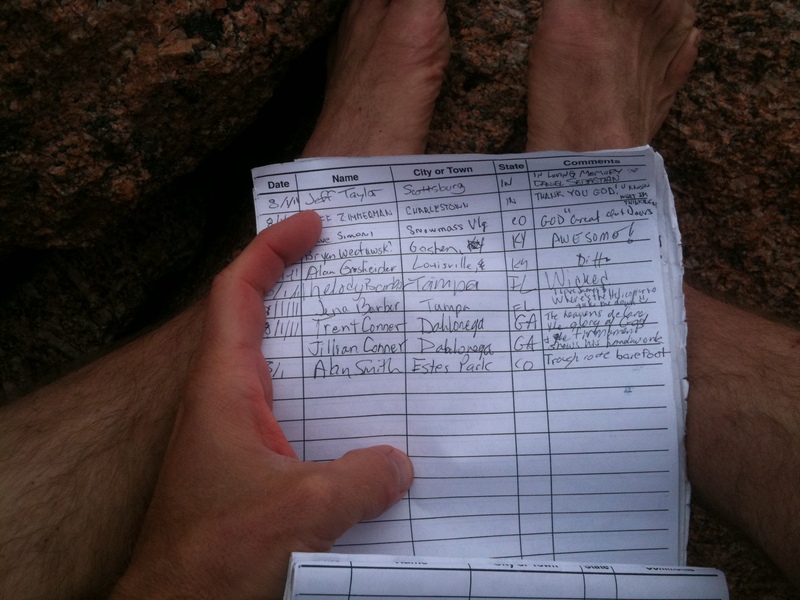 The clouds had blown on by then, and it was gorgeously sunny. Here's a view of the Roaring Fork drainage, with Chasm Lake at the start.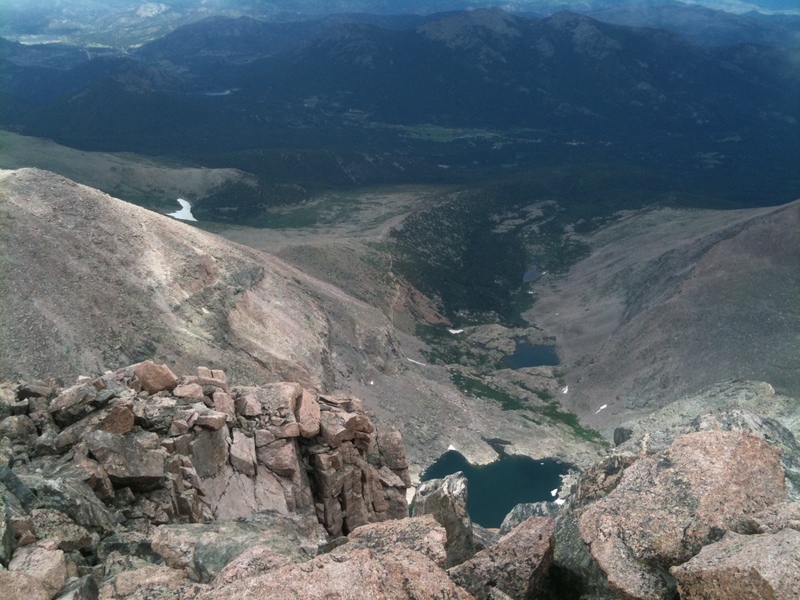 I made a quick call to Lori, answered a text from a co-worker, and started heading down at 2:15.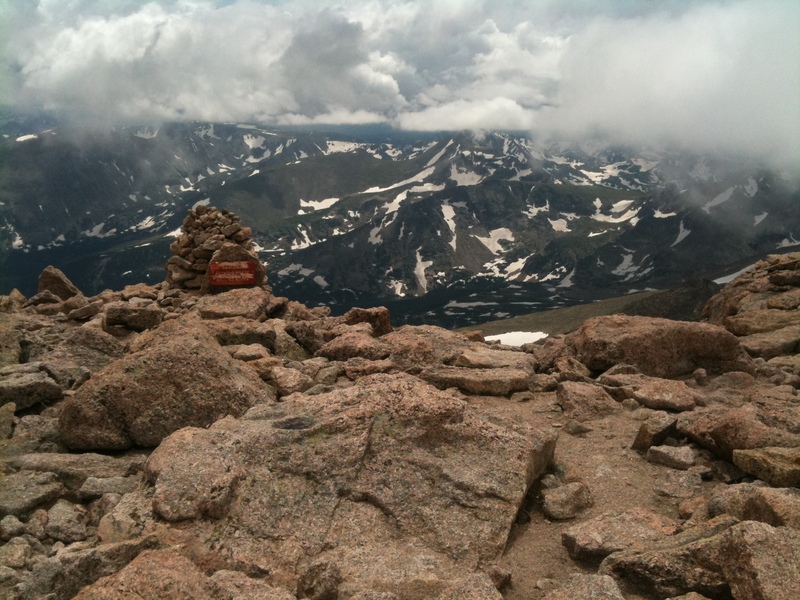 The trip down to the Keyhole was uneventful, but I was starting to get slow due to the tiredness in my feet. It usually takes me 30 minutes to get to the Keyhole from the summit, but this time it took an hour. I slipped through the Keyhole to get out of the wind for a bit, and took a standing break right beside the shelter house. I called Lori (our summit call was cut very short by a cloud bank that killed the signal), and then checked Facebook and posted an update to my status as any true Geek would do if he had good signal after hours without.
I could tell that another wave of the storm was about to overtake me, so I headed down as quickly as I could manage.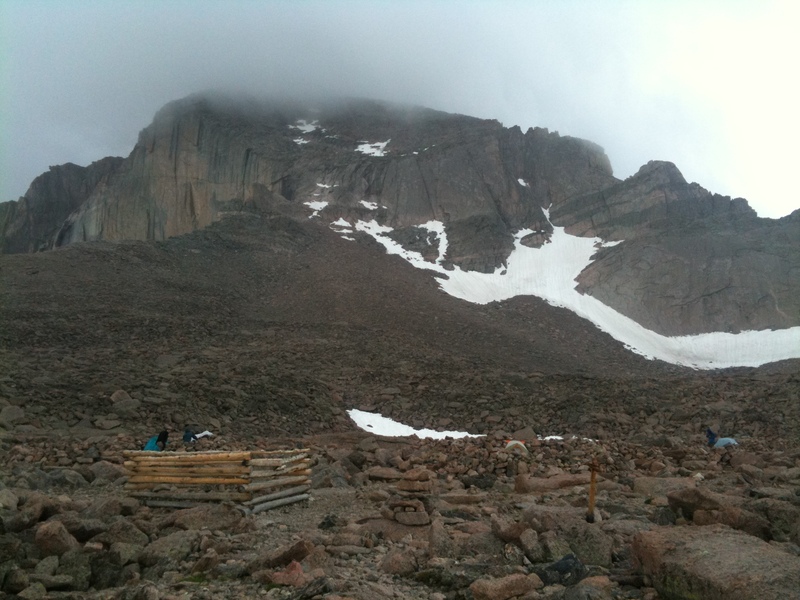 Shortly after the Boulderfield campsites, the storm overtook me, and it started raining. And then it rained harder, and the wind blew 20-30 mph. And the temp dropped down into the 40's. I had already put my sleeves on, and then my rain jacket, but it rained so hard for so long that my jacket was soaking through and my shirt was getting wet. And then my feet really started bothering me, partly because they were cold, and partly because (I didn't figure this out until later) the moisture was making all the little gritty stones stick to my feet and aggravating the same tired nerves with every step. There was little I could do except press on and hope that it would get better as I descended. Which it did, shortly after I got onto the Jim's Grove trail!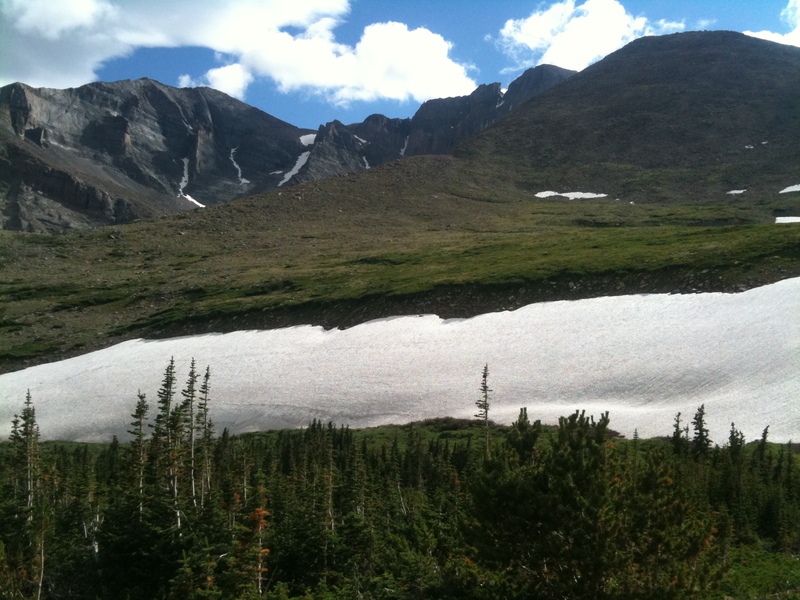 Things went better after that, and I quickly arrived at Jim's Grove junction and refilled my bottle again. Shortly after that, I passed two guys headed up with backpacks taking a break. One of the asked me where my shoes were, and I told him I left them at home. His reply? "Right on!". I started back down the trail when the other guy asked if I had summitted. When I replied that I had, he told me I was "amazingly awesome"! Doubting that a little, my spirits were still very much lifted by the positive reception they gave me. Most people I meet on the trail when I'm barefoot just look at me like they're scared of me, and quite often I hear them whispering comments after I've passed them. I'm glad to have the opportunity to challenge their paradigms without saying a word, and even more glad when I meet someone like these guys who are positively encouraged by my folly.
The rest of the trip went well, but very slowly. I was able to run a few short sections of good trail shortly after the Alpine Brook, but soon my feet were so tired and sore that I could only hike. Towards the bottom, my ankle started acting up, as it hadn't fully recovered from the run almost to Grand Lake and back two days prior, and I had to walk very carefully to avoid further aggravating it. At 6:20, I finally reached the trailhead, where Lori, Izzie and Hannah were waiting to pick me up.
I was very surprised that I had very little tenderness or sensitivity on my soles, which I had expected would be the main problem. It was only the muscles and connective tissue that was worn out, and it would be several days before they were 100% recovered. Here's a pic of my left foot right before I went to bed that night. No blisters, no abrasions, just lots of tiredness!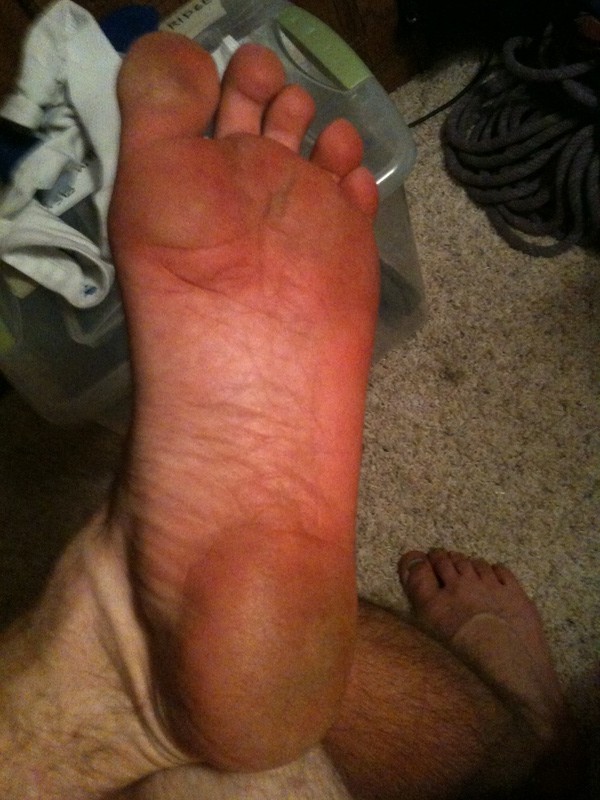 Overall, I think this went a lot better than what I was expecting. I'll have to wait until after Leadville, but I'm already thinking that a good next challenge would be to climb Longs barefoot by as many routes as possible. The North Face, the Loft Route, Keplinger's, maybe even Keyhole Ridge seem pretty doable. I still haven't figured out how to do Kiener's route due to the climb up Lamb's slide in the snow, but maybe I'll be able to figure out something!